This first one is from Southern Azerbaijan -- Lankoran. It's unusual, which is why I am willing to overlook its flaws. You wouldn't think its greens, pinks and oranges work well together, but they do. I especially like the flames on the fourth border, which is very typically Azeri. It's currently my favorite. The longer it's on my floor, the more I like it.

Lankoran Carpet
This is a Sumac from Dagestan. Dagestan is just over the northern border with Azerbaijan. The Russians think it's part of Russia, but the Dagestanis have a different view. We can't go there since there are a lot of Chechens stirring the shitpot, but that doesn't mean you can't buy their carpets. This design is pretty much a dime a dozen here, but I like it. I especially like that Svetlana wove her name into the border (you can't see it in this photo). The dog lying on it is Mo, and the brown pattern is the ugly carpet underneath.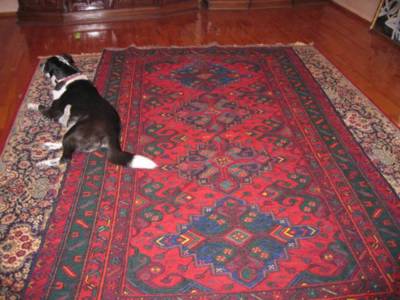 Dagestan Sumac
This Guba carpet is currently my least favorite. (See, I pick favorites, just like you do with your children.) It's got an unusual pattern, but it's not very traditional. Guba is in the north of Azerbaijan, near the border with Dagestan, and is one of the primary carpet producing areas of Azerbaijan.

Guba Carpet